25.11.15 reductive journal FOUR book launch at hcmf// 2015
reductive journal FOUR – the book launch tour #1
Bates Mill Photographic Studio, 10PM  Tickets £12 (£9 concession / online)

actualised by:
Ryoko Akama (objects and electronics)
Heather Frasch (flute)
Jürg Frey (clarinet)
Sarah Hughes (objects and zither)
Bruno Guastalla (cello and bandoneon)
Manfred Werder (traces)
Daniel del rio (computer)
performance pieces:
Jürg Frey            Floating Categories
lo wie                  CLOUD SCISSORS
Manfred Werder 6 scores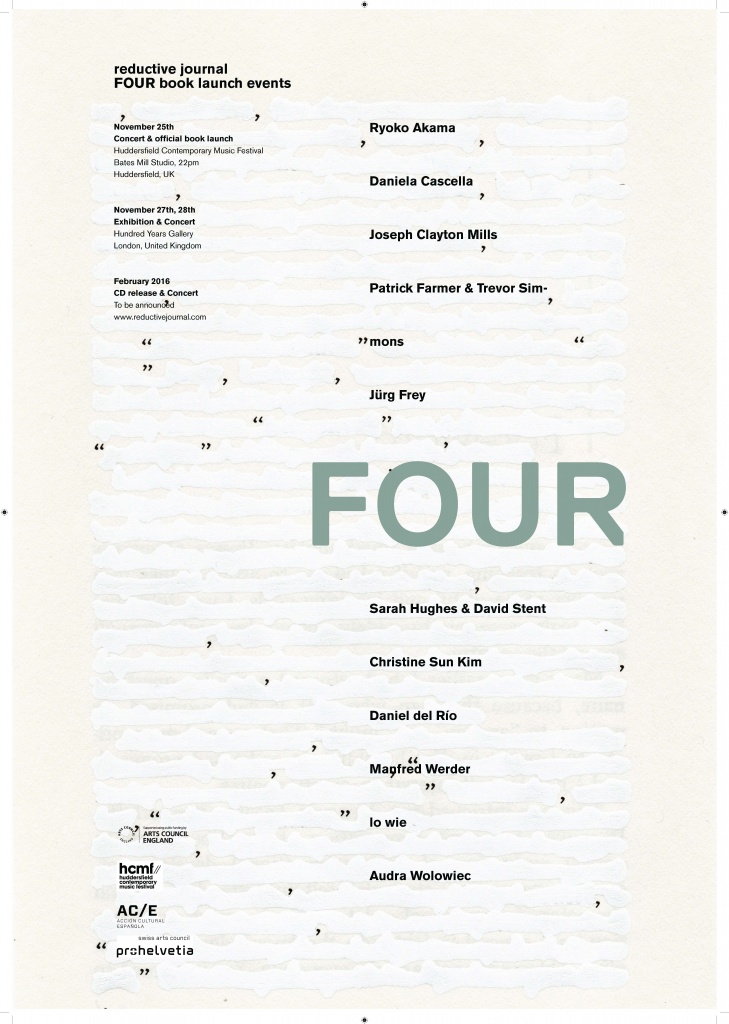 details – http://www.hcmf.co.uk/event/show/519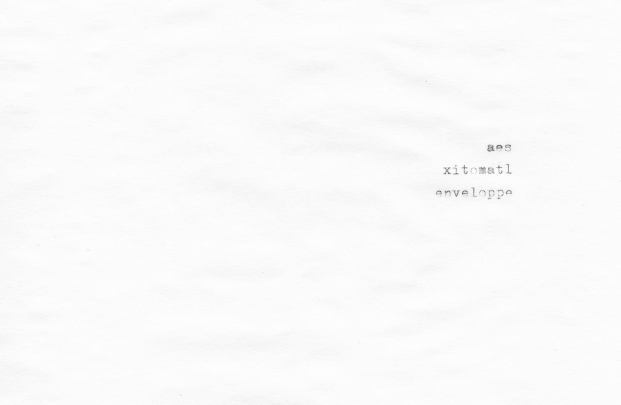 'As I put it to one side, I am no wiser as to how, or if I am meant to respond to it, but the process of considering such questions is a beguiling one that means it won't be long before I pick it up again.' extract from Foreword by Richard Pinnell
This is the kick-off event for our book launch tour of FOUR, celebrating the fourth issue of mumei publishing's free online journal – reductive journal. The central tenet of the journal investigates diverse perceptions that occur when we deal with text and sound. It attempts to consider minimal and abstract forms of art to interrelate sonic, image and text experiences. We ask various contributors to participate in each issue with their own compositional approaches and methodologies in relation to the journal theme. The first three journals include works from Taku Sugimoto, Toshiya Tsunoda, Manfred Werder, Jesse Goin, Joseph Clayton Mills and many more.   
FOUR invites eleven works that cross-discipled around text-sound compositions, examining text scores, images, objects, constraints, literature, instructions, poems or notations. We commissioned Ryoko Akama (UK), Daniela Cascella (UK), Patrick Farmer (UK), Jürg Frey (Swiss), Christine Sun Kim (USA), Sarah Hughes (UK) and David Stent (UK), Joseph Clayton Mills (Canada), Daniel del Rio (Spain), Manfred Werder (Swiss), lo wie (Korea), Audra Wolowiec (USA) to echo ideas of empty space and absence that can be deciphered, interpreted, performed, read and so on.
This event discusses the Bates Mill Photographic Studio as a possibility, composing the space with exhibition, presentation, performance and installation. You are invited to find a visual exhibition with framed works extracted from FOUR, a presentation corner introducing reductive journal in a showcase stool, and a group of six performers composing and performing sonic actualisations and interpretations in correspondence to three selected works that act as 'scores'. The result is an unique experience of sharing the listening.
reductive journal (mumei) is Ryoko Akama, Heather Frasch, Daniel del Rio and Vasco Alves. The journal info and past issues available on www.reductivejournal.com
This publication and tour is supported by Arts Council England, Pro Helvetia, Acción Cultural Española and hcmf//