11.05 – 31.05.16 Exhibition and Performance, Echo Bücher, Berlin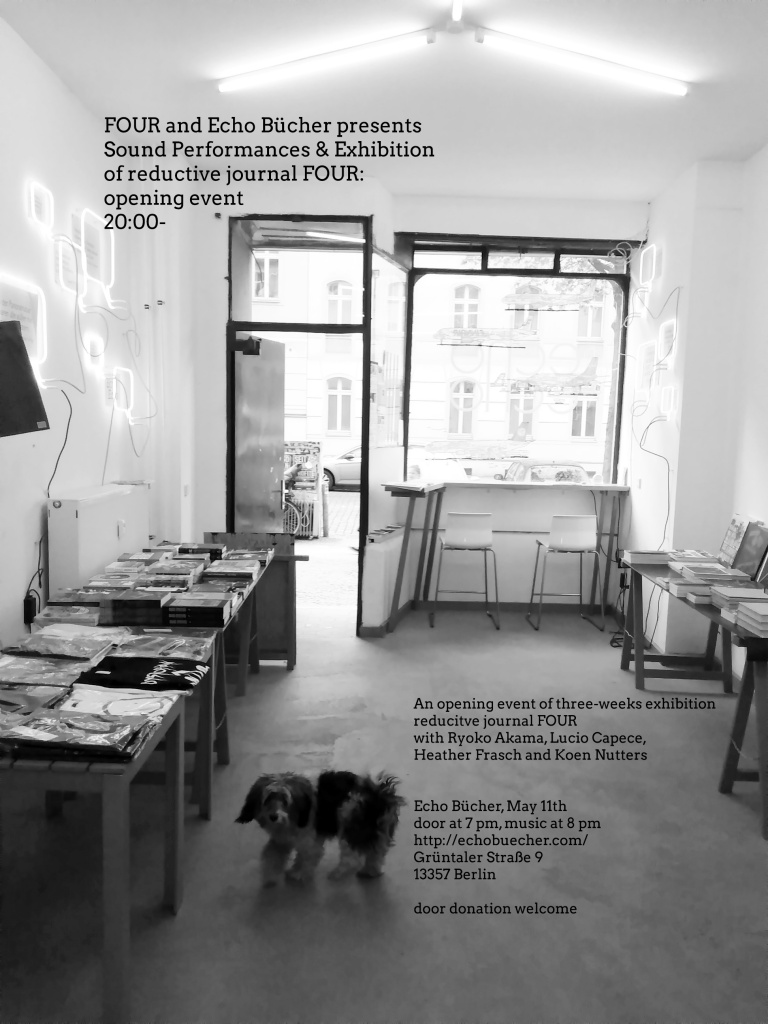 mumei and Echo Bücher presents Exhibition of reductive journal FOUR:
An opening event of three-weeks exhibition with Ryoko Akama, Lucio Capece, Heather Frasch and Koen Nutters, performing lo wie and akama's scores from FOUR book.
Echo Bücher, May 11th
door at 7 pm, music at 8 pm
http://echobuecher.com/
Grüntaler Straße 9
13357 Berlin
mumei and Echo Bücher celebrates reductive journal FOUR, the fourth issue of its free online text-sound journal. Echo Bücher will kick off an exhibition of reductive journal publications from mumei publishing for three weeks in-shop.
FOUR is a text-sound art book that examines the boundaries between sonic experience and text in terms of scores, images, objects, literature, poems, notations and so on. Each work articulates silence and space that is in some way sonic. It includes works by Ryoko Akama, Daniela Cascella, Joseph Clayton Mills, Patrick Farmer, Jürg Frey, Christine Sun Kim, Sarah Hughes and David Stent, Daniel del Rio, Manfred Werder, Io wie and Audra Wolowiek.
more info -http://echobuecher.com/ +  http://mumeipublishing.com/